FAQs
If we cannot answer your question through our FAQs, please do not hesitate to contact us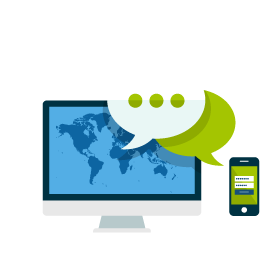 WHAT DO I NEED TO DO TO GET A WEBSITE ONLINE?
There are 3 main components you need in order to get your website online:
Domain Name Registration
Web Hosting account
Website Development
We can register domain names on behalf of our clients, setup Web Hosting accounts and develop websites. We charge no setup fee for Domain Names and Web Hosting accounts, and you can contact us to get a free quote for website development.
WHAT ONGOING COSTS ARE THERE?
You will need to maintain the software that your website runs on.  We provide free updates to our website development clients for 6 months after the website goes live, but after that we can provide you with a Care Plan.  You will need to renew your web hosting account on an annual basis and your domain name will also have to be renewed every 1 (for .com) or 2 years (.com.au).

If you would like us to update the content on your website then we can provide you with an estimate based on your specific requirements. We will occasionally do free updates if it is only small text changes on a page.
HOW MUCH DOES A WEBSITE COST?
The cost of getting a website online can be attributed to a number of factors. You'll need a domain name, web hosting and a website created. The cost of website development comes down to how complex you want the website to be. For example, a basic website with only a few pages might be around $500, however, a website with online store facilities would be around the $1,500 mark.
Given there are many variables involved, it is best to contact us to obtain a free quote for your website.
WHAT PAYMENT METHODS DO YOU ACCEPT?
We prefer direct bank deposit but also accept cash, credit card payments (via PayPal only, plus additional fees), PayPal payments (plus additional fees) and cheques.
Website Development Questions
WILL WE NEED TO MEET TO DISCUSS MY WEBSITE
More often than not we complete projects without meeting with the client face to face. Phone conversations and emails generally allow us to get enough information from the client in order to complete the project.

We have worked successfully with many interstate clients where phone and email were the only realistic means for communication.
HOW LONG WILL IT TAKE TO DEVELOP MY WEBSITE
Website projects are generally dictated by the clients time requirements. Our minimum is 2 weeks from the time we have received the digital content and images for all web pages, but this will depend on how complex the site is. The more pages, the longer the website will take to build. Kristy Gostelow
Kadence Group
"Thanks for all your help and advice Wayne! Quick and incredible service! Highly recommend :) " Andreea Lawther
Little Kitchen Blue
"Fantastic service. No question too small or stupid. Responsive, fast and happy to help. Thanks Wayne. Cannot recommend highly enough!" Anthony Clarke
Dedicated Developments
"A pleasure to have Nitro IT as our website and IT specialist. Always prompt and reliable service."